COVID-19 vaccine now available at Chicago O'Hare International Airport (ORD)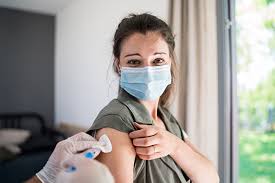 March 2, 2021

COVID-19 vaccine now available at Chicago O'Hare International Airport (ORD)

We are pleased to announce that the Chicago Department of Public Health (CDPH) is providing American Airlines a limited supply of Johnson & Johnson coronavirus (COVID-19) vaccine doses to be distributed to team members at ORD. The vaccines will be administered by Premise Health staff in the K19 Former Flagship Lounge, beginning Thursday, March 4.

According to CDPH guidance, all ORD-based mainline and regional team members are eligible, but customer-facing employees will receive priority appointments. We encourage you to reserve your spot as soon as possible, as appointments are limited.

Vaccines available at ORD

Beginning Thursday, March 4, vaccines will be available by appointment for team members at the K19 Former Flagship Lounge in ORD's Terminal 3.

To sign up for a vaccination appointment at ORD, please call the American Airlines ORD COVID-19 Vaccine Reservations Center at (773) 686-3234. The call center will operate 7 days a week between 8 a.m. and 4 p.m. each day, starting Wednesday, March 3. We ask for your patience as we work through high call volumes.

Team members may sign up to receive the COVID-19 vaccine at ORD over the next few weeks during the following dates/timeslots. Please note, appointments are limited.

Mondays from 11 a.m. to 7 p.m.

Tuesdays from 6 a.m. to 2 p.m.

Wednesdays from 11 a.m. to 7 p.m.

Thursdays from 8 a.m. to 3 p.m.

Fridays from 8 a.m. to 3 p.m.

To prepare for your vaccine appointment, please bring your driver's license and American Airlines identification badge. You must stay for observation at least 15 minutes after receiving your shot.

American Airlines cares about your health, safety and well-being, and we encourage team members to take advantage of any available opportunity to be vaccinated. Our priority was to inform you as soon as possible of this development.

If you have questions, we encourage you to join a team member townhall with Franco Tedeschi and medical staff from Premise Health to learn more about the vaccine and ask any questions you might have. The ORD Virtual Townhall will be held on Wednesday, March 3 at 1 p.m. CT. To join, dial 1-866-240-1897, access code 130 663 5461, or click this link.

Please be advised that vaccination should be deferred if you have experienced any of the following in last 90 days:

Been infected with COVID-19

Treated with monoclonal antibodies

Treated with convalescent plasma

Please note that even though the vaccine is becoming more available across the country, we must remain vigilant in the safety practices American has put in place to keep each other, our families and our customers safe. This includes following our face covering policy; maintaining 6 feet of social distance from others; regularly washing hands or using hand sanitizer; and not coming to work, including flying, while sick, per our Well for Work self-declaration.

American's latest updates on the vaccine are available on Jetnet. Should you have additional questions related to the COVID-19 vaccine, please reach out to your local leaders, who can advise you or direct you to the most appropriate resources.